The Dyrobes Advantage
Dyrobes is comprised of two major programs and four optional programs. All programs are integrated. The two major programs are Rotor dynamics (Rotor) and Bearing Performance (BePerf). Together, the two programs provide engineers with a single comprehensive tool that can analyze a rotor-bearing system without the expense of long trials. Dyrobes Rotor is capable of linear and non-linear analyses of free and forced vibrations (lateral, torsional, and axial) as well as static deflections of multi-shaft and multi-branch flexible rotor-bearing-support systems. More than ten different types of bearings, dampers, and seals are built in. FEA programming allows for multi-shaft designs and modeling of bearing housings.
Dyrobes-BePerf complements Dyrobes-Rotor by calculating bearing steady state and dynamic performance. The wide range of bearing configurations which can be analyzed include plain cylindrical, partial arc, elliptical, lobed, multi-pocket, pressure dam, general fixed profile lobed, flexural/tilting pad with or without flexible pivots, floating ring bushings, gas lubricated bearings, and thrust bearings.
The four additional programs are Gear Loading (GearLoad); Balancing (RotBal), Advanced Thrust Bearing (ThrustBr) and Spiral Groove Face (SpiralGr).
Features
Operational on Windows XP through Windows 10 operating systems.
Fully integrated menus for analysis and post-processing
Multilevel rotor models lateral and torsional analysis
Two- and three-dimensional animated mode simulation
Forced unbalance response with linear and nonlinear bearings
Time-transient analysis for lateral and torsional analysis
Rotor transient variable speed analysis with FFT waterfall generation
Complete fluid-film bearing analysis including tilting and fixed pad, multi-lobed and pressure dam
Extensive graphics capabilities
Context-sensitive Windows help menus
Report-ready plot output
Multi-colored modeling
PNG, JPEG, GIF, BMP graphic formats.
Extensive example sets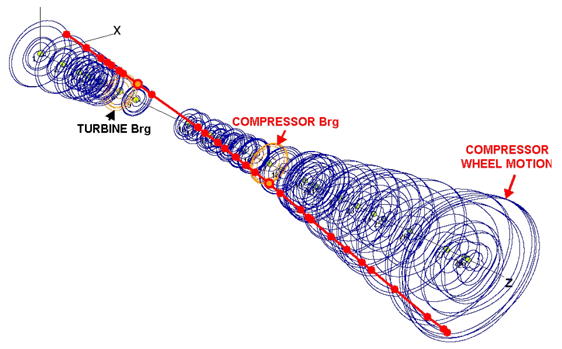 Non-linear, time transient motion of turbocharger

Turbine generator set with foundation effects

Turbine compressor with flexible coupling